It's no secret that the SubAp! crew love us some Against Me!, but we — along with the fine folks at No Clubs — want you to love Laura Jane Grace & co. as well, so we have teamed up with them to send you and a friend to the show at State Theatre on January 24 for free.
SUB AP! CAL: AGAINST ME! AT STATE THEATRE 01.24.14
Tickets went on sale today at noon, but we're gonna give away one pair of tickets a lucky somebody before the weekend is out.  All you have to do is "Like" and "Share" this here Facebook photo then "Comment" on it with your favorite Against Me! song. We'll pick a winner sometime Sunday night and let them know they've won.
So a recap: Win yourself a pair of tickets to see Against Me! at State Theatre on January 24, 2014 by:
01. Liking and Sharing this Facebook photo
02: Commenting on the photo with your favorite against me song.
That's it, so get up and go.  More information on the show is on our calendar page.
UPDATE: And if you wanna see these songs performed acoustic, then be at Mojo Books & Music at 4 p.m. for a free in-store. Details here.
Pompeya's world tour stops in Tampa, Fla. tonight in the form of a free show at The Hub. (How you like that for a true story!?)
 SUB AP! CAL: POMPEYA AT THE HUB 12.05.13 (FREE SHOW)
The Moscow-based (that's Russia for those of you who dropped out of school in fifth grade) quartet — Daniil Brod, Denis Agafonov, Sasha Lipskiy, Nairi Simonian — pull their inspiration from 70s disco, 80s New Wave and 90s indie rock, and have a new LP — Tropical — out now.  Fans of crunchy guitar, synth, funk bass plucks, vintage programmed beats, and sweating your ass off on the dance floor will enjoy the sound.
Have a listen to the damn thing below, and get more info on the show at our calendar page.  For those of you inclined to make it a big night out in Tampa, make plans to be downtown early for another free show featuring Easter Island.
A limited edition vinyl is also available (maybe from the band today, too?) online.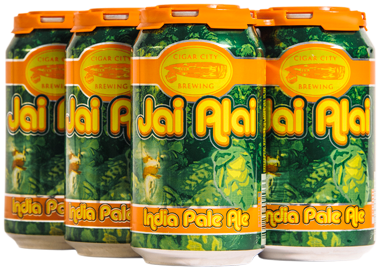 Anyone within pissing distance of an 813 or 727 area code has been well aware of the good work that's been done at Cigar City Brewing ever since the place popped up on Spruce Street just less than six years ago, but we'll be damned if we don't like seeing the place get some national shine. (Hell, we just wrote about CCB'a amazeballs collaboration with Alexander & The Grapes yesterday.)
Paste Magazine has listed CCB (who also happened to finalize a major expansion that could potentially lead to international distribution) as their no. 2 brewery on a list of the "20 Best Craft Breweries of 2013."
Ahead of Russian River. Ahead of Founders. Ahead of Green Flash, Lagunitas, New Belgium, Bell's, Stone Brewing, and even Dogfish Head (Firestone Head topped the list).  The article called CCB "one of the most creative breweries in the country right now," and lauded its Good Gourd Pumpkin Ale and classic Jai Alai IPA.
Read the passage from Paste below, then read about Cigar City's massive expansion at TBO.com and the Wall Street Journal.
There are two yearly beer-snob traditions: find the best IPA, and find good pumpkin beers each fall. Both quests led to Tampa in 2013. Cigar City's Good Gourd was one of Paste's Best Pumpkin choices and the second-highest beer we reviewed all year-long (9.1/10). The Jai Alai IPA took second-place in our 64-beer IPA challenge. Neither of those is even the most exciting development at Cigar City, as the brewery expanded to create a unique offering in Puerto Rico (Dry-Hopped on the High Seas) and started on mead and cider production at home. Add in a collaboration with New Belgium—a chili beer aged in Spanish oak—and you've got one of the most creative breweries in the country right now.
Would you look at that (that up there).  It's St. Petersburg's own Alexander & The Grapes illustrated  by Johnnie Cluney of Daytrotter.com, and while we're wondering why everyone's got their eyes closed in the drawing, we're more excited to listen to recorded versions of three new tracks we've been throughly enjoying live (specifically "Naturally Strange").
The tracks were recorded by Josh Niles in Nashville, Tenn, where the band got to get their hands on some Big Light Studios' sweet gear.
"It was a great experience. We got to play some really old Strats that we'll never afford and record in a very different environment than what we're used to," frontman Alexander Charos told SubAp! in a forthcoming interview.  "We had been on the road for a while so recording live came really easy.  We're honored to be a part of it."
What's more is that the band has finished brewing their own double IPA with Cigar City Brewpub's own Tim Ogden.  The collaboration came from a mutual respect between Ogden and the band and was brewed on site at Cigar City Brewpub on November 22.
In the same forthcoming interview with SubAp!, Ogden revealed that the beer is dry, crisp, and hoppy with undertones of fruit medley, while sporting a 9.2-percent abv. It's brewed with locally grown muscadine grapes.
"The muscadines hide back there, there is a tiny bit of raisin character in the malt," Ogden told SubAp!, "the Nelson Sauvin Hops have this sauvignon blanc quality among other things.  It tastes like an IPA that you want to drink a million of, but wont get that far."
We'll publish the interviews with Ogden and The Grapes' Alexander Charos soon, but in the meantime check out the beer's label below and listen to the band's Daytrotter session here.
The beer will be celebrated at the Brewpub on December 13 with a bottle release and New World Brewery hosts a dual beer/7″ release on December 20 where the DIPA will be available on tap.  Orlando fans can get the beer colored 7″ at The Grapes' show supporting Davey Von Bohlen at Backbooth on December 21.  More cool shit to do can be found on our calendar page.
Photo via FB
If you catch a glimpse of Brian Schaefer, he's probably sporting the five-o-clockest of five-o-clock shadows.
"It just happens to be that way sometimes," Schaefer told SubAp! over the phone when we called to ask about the beard, "I put [the clippers]  on 'two' and shave it.  It's pretty low maintenance."
SUB AP! CAL: SPoT'S TAMPA AM WEEK THU-SUN (FULL SCHEDULE)
FREE SHOW AT CUBAN CLUB 12.07.13  w/
TRINIDAD JAMES + FLATBUSH ZOMBIES + UNSTOPPABLE DEATH MACHINES
As the head honcho of Skatepark Of Tampa and head bus boy  at The Bricks of Ybor (the latter is his job description, not ours), Schaefer is an up-with-the-sun, never stop working kind of guy, and we're guessing that shaving twice a day really isn't on the agenda.  If you follow his adventures on Instagram, then his thumb of approval is a staple of your feed, and if you do get a chance to talk to him in person, than one very clear thing pops out:
A passionate, very real, and honest passion for skateboarding and the community he's been serving since SPoT opened its doors over twenty years ago.
Schaefer's responses usually go anywhere from pensively contemplated to straight off-the-cuff  and from the heart, but when you listen to the words coming out of his mouth all you really hear (and see on his face) is a genuine concern for the betterment of the things he loves and holds dearly.
He's a champion of Ybor City ("You either get it, or you don't"), a master of living in the present with a positive attitude, a pretty-much no-bullshit dude who believes that actions speak louder than words 100-percent of the time.
In advance of 20th Annual Tampa Am (a world-renowned amateur contest that has launched the careers of many professional skaters), Schaefer caught up with SubAp! over email to talk about his favorite Tampa Am memories, the course rebuild, and even dropped his two cents on the whole Bro Bowl bruhaha.
Have a look at at full conversation below, and click the event poster below to get the most up to date info on Tampa Am week. More information on Saturday's free show at the Cuban Club in Ybor City, Fla. is available at our calendar page.
SubAp!: You are a really busy guy.  What lull in your activity is allowing you to answer these few questions we're about to toss your way?
Brian Schaefer: Since it's a week before Tampa Am, fitting in everything wherever I can, so these are being answered after midnight on Tuesday .
I wanna talk about this amateur tournament and specifically about past participants who might've shied away from participating in qualifying but actually ended up doing pretty well.  Basically, what are some of your favorite Tampa Am success stories over the years when it comes to individual skaters? 
Skaters  like Felipe Gustavo from Brazil selling  the family car, to afford travel  to compete in Tampa Am, and actually winning the contest in 2007. He now has a successful pro career going strong and Tampa being his introduction. A ton of others having Tampa launching their careers or assisting as well. Too many to list.
What about this year's amateur tournament.  What are you looking forward to the most? 
Seeing new faces for the first time in tampa, a new course being ripped as it's the best course rebuild in its lifetime, and wanting the final 12 skaters to have the best skating that can possibly be.
There's a lot of talk about the Bro Bowl's future, relocation, place in the community.  Considering all sides, what kind of mental state do you think skateboarders should be coming from when considering the iconic bowl's place in Tampa's history and future?
It's a piece of history that will never be forgotten.  If it has to move, then rebuild a replica and build it better, exact foot print, better transitions, coping, remove the steep titty mogul that's in the way, better hip next to the sidewalk roll in, skateable transitions on the runway down into the bowl with coping on each side.
If it has to be moved and put back in place, exactly how it is, I believe it's a waste of resources.
If there is a better bowl, accommodating the same type of skating ability, along with a better and bigger skatepark with additional skating elements for everyone from 3 years old to 50-plus, than it's better for everyone.
Park has to be free, no pads, BBQ facilities, shaded area, nonscheduled hours, and it will be one of the most used resources in that area, more than just the Bro Bowl as it is now.  I am connected to bowl since I've skated it now for almost over 30 years, but if there is something better in its place, thenI will be thankful for the old and embrace the new.
The bands.  How do you end up picking and booking these bands for the Pro and Am parties?
Couldn't do it with out our partners, Nike SB and Converse first of all, second, we just agree on what will work usually in Tampa, what's available, what artists are easiest to work with, and hopefully create an even greater experience outside of just the contest itself, a multi-cultured experience.
You're pretty much a heart-on-your-sleeve kind of guy.  What's private Brian like?  What kind of things do you end up doing when you have a few solitary moments alone or with Knuckles? 
Thank you for doggie daycare, or my time with knuckles would just be him watching me work
Okay, let's say eating  at the The Bricks is not an option.  What are a few of your favorite Tampa spots to grab a drink or food?  Is there anywhere you absolutely refuse to go?
No where I refuse to go at all. The Refinery, Ella's, Anise, and Independent are solid.
Lastly, your positivity and love for Ybor city is well documented.  There are several ways to explain Ybor to both people who love it, or completely afraid of it.  What is it about this community that you love so much, and could you ever see yourself living anywhere else?
You either understand it or you don't. The potential and diversity keeps me in love with it along with it being so centrally located from everything you need too. Three miles to SPoT, three block to The Bricks, next to down town, interstates and airports are close and accessible as well.
Anything else you'd like to say?
Live broadcast of Tampa Am in case you can't make it in person. Saturday and Sunday of the contest weekend Dec. 5-8 at skateparkoftampa.com